Inspirational leadership is one of the most important things we can offer our young singers. Led by Artistic Director, Rachel Staunton, our Senior Music Team are all choral conductors with many years experience of drawing the very best from young people. Our conductors encourage, nurture and challenge the members of their choirs, giving them a fantastically engaging and enlightening musical experience.
NAVEEEN ARLES
Conductor, LYC Cambiata Boys
Naveen Arles BCA FRSA, has established himself as an energetic, inspirational vocal leader and animateur.  Founder of MDBrunch, his 36 years in music incorporates 26 years of creating singing groups of all ages and skills. Nav's ability to motivate people to try music and train any group of people means he equally delivers workshops in senior management training courses, with wellbeing support groups and in prisons.
Read more
His choirs have toured with Hugh Jackman, Take That, Lulu; performed with George Ezra, Alexandra Burke, Freya Ridings, on all TV channels, for HRH Prince Charles and welcomed the guests for Michelle Obama's exclusive UK book launch.  Nav's experience and social justice work has led him to both be invited onto the council of the Association of British Choral Directors (ABCD) and to join a 10 person consultancy panel to advise Hal Leonard Europe on their Equality, Diversity and Inclusion policies.
HARRY BAKER
Accompanist
(he/him)
Harry Baker is an award-winning pianist and composer with an equal passion for classical performance and for jazz and improvisation. A key player on the UK jazz and classical scenes, Harry has performed at the 606 Club, Pizza Express Jazz Club, Wigmore Hall, Royal Festival Hall and on BBC Radio 3, with international soloists including opera singer Danielle de Niese and cellist Sheku Kanneh-Mason.
Read more
As an in-demand composer and arranger of choral and vocal music, Harry has written compositions for the Choirs of Merton and Magdalen College Oxford, SANSARA chamber choir, and the National Youth Choirs of Great Britain, with whom he is a Young Composer. In June 2019, he conducted Oxford University Jazz Orchestra and vocal ensemble The Oxford Gargoyles in the first performance of his suite for big band and voices, entitled "The Floating Boy".
Greg Beardsell
Conductor / Musicianship Tutor
Greg is a leading light in music education and performance. His ability to inspire people of all ages to explore new musical horizons whilst sharing his diverse range of musical skills has created new and exciting music-making opportunities, particularly for young people.
Read more
As well as being conductor of the London Youth Chamber Choir, he is Music Director of the Cross Border Orchestra of Ireland, the Peace Proms and Principal Conductor of the National Youth Training Choir. He is a guest presenter for BBC Radio 3's "Live in Concert" and "Choir and Organ" programmes and features as a choral music expert for the BBC Proms TV broadcasts.
He has held conducting positions with the Bournemouth Symphony Chorus, the Irish Youth Choir, the Ulster Youth Choir and the Royal College of Music Chamber Choir and has presented seminars on conducting and teaching strategies for organisations such as Cambridge University, the Association of Swedish Choral Conductors, Cornell University New York, and music education hubs across England.
Charlotte Brosnan
Conductor, LYC South West
Charlotte is a singer, conductor and workshop leader based in London. Charlotte enjoys delivering workshops and facilitating education projects throughout the UK and Europe for various national organisations including The National Youth Choirs of Great Britain, The Voices Foundation, The Bach Choir and VOCES8 Foundation, and is an ambassador for Britten-Pears Arts.
Read more
Charlotte is musical director of Monumental Choir and directs the East Hertfordshire Schools Singing Festival. She is in demand as a workshop leader, presenter, and adjudicator. Charlotte studied at Nottingham University whilst also holding a choral scholarship, she then moved to Rome to study singing and Italian. Until recently, Charlotte was a full-time member of Apollo5, an international award-winning vocal quintet. She now enjoys a solo career of recitals, oratorio and opera. 
JACK HARBERD
Assistant Leader (LYC South East)
Jack works as a singer and music researcher for television alongside his role with LYC. He was raised in Norwich and Oxford, and took a music degree at the University of York, graduating in 2018. Jack is in his second year both as a member of Genesis Sixteen and as a choral scholar at St Martin-in-the-Fields, and is an ex-fellow of the National Youth Choirs of Great Britain.
Read more
During the first and second COVID-19 lockdowns Jack worked as a delivery driver for Tesco, and only crashed his van three times! In his spare time Jack plays gamelan, cooks, and is working hard towards touching his toes. He always looks forward to LYC South East on Thursdays!
PENNY HOMER
Assistant Leader (LYC Junior Boys)
(she/her)
Penelope Jane Homer graduated from the University of Nottingham with a Bachelor of Music degree in 2003, where she was a choral scholar at St Barnabas Cathedral. She is the Musical Director of Winchmore Singers, an upper voice choir in North London, as well as Musical Director of Barnet Hospital Choir. She is also Assistant Leader at London Youth Choir.
Read more
Previous conducting engagements include Apprentice Musical Director at Enfield Choral Society, Junior Conducting Fellow at Zemel Choir and Musical Director of Barts and the London Musical Society Choir. In addition to conducting, she sings professionally as both a chorister at St Dominic's Priory and as a soloist, and teaches at City Lit and Streatham and Clapham Prep School as well as privately.
She is also the Administration and Communications Officer for Arts Network Sutton.
SHARON JOHNSON
Assistant Leader (LYC Cambiata Girls)
Following work as a pastry chef, Sharon was looking to transition into a career in music in therapeutic settings when she received a job ad for a schools-based opportunity. She now works with children of a variety of ages as a school learning support assistant, using music to engage with and transition children through the school day. She has been a member of a Gospel Choir for 10 years, where she sings alto, and is delighted to be joining the LYC team.
JONATHAN LIEBECK
Accompanist (LYC South East)
Jonathan started playing the organ at the age of 11, and attended the Royal College of Music Junior Department. In 2009, he was awarded a place at the Royal Academy of Music on the Foundation Course, supported by a scholarship from the Eric Thompson Trust, studying the organ with Nicolas Kynaston. 
Read More
In 2010, he began his BMus degree at the Academy, continuing the organ with Nicolas Kynaston, and has now successfully completed his BMus. In 2016 he completed a one year Masters in Music at Trinity Laban Conservatoire, London in Jazz Piano.
Jonathan has played jazz gigs at The Vortex Jazz Club and Blackheath Concert Halls in London and many other jazz venues in the City. He also accompanies the SingGospelUK choir who got to the finals of BBC Songs Of  Praise Gospel Choir of the year in 2016, which was televised on BBC 1, and has toured with Scottish jazz funk band Fat Suit who have appeared on BBC Scotland.
ELLIOT MERCER
Assistant Leader (LYC West)
(he/him)
Elliot is a conductor, teacher and singer based in London who is also lucky enough to be an LYC Alumnus. He now teaches music and runs multiple choirs and musical groups at a girls school in Central London. He graduated with a first in Music from the University of Birmingham, where he majored in choral conducting and took part in as much as singing and music-making as he could get away with.
Read More
To further satisfy his choral addiction, Elliot is Assistant to the CEO with national choral charity, Sing for Pleasure, where he started volunteering after thoroughly enjoying their conducting training. He has also recently been the Young Conducting Scholar with Crouch End Festival Chorus and enjoys working with choirs around London. Elliot has previously sung in National Youth Choirs of Great Britain and CBSO Chorus and has been Musical Director for The People's Show Choirs, Ring of Sound Community Choir among other ensembles in London and Birmingham. Away from music, he enjoys reading, being a very average tennis player and refereeing football, but has never been able to properly introduce singing into his game management.
LAUREN MORGAN
Assistant Leader (LYC Junior Girls)
Lauren grew up in Dorset and joined the Bournemouth Symphony Youth Chorus at a young age. She was fortunate to have some inspiring music teachers at Clayesmore school and went on to study music at Royal Holloway University of London, graduating with a BMus (Hons). She now works in youth music education as an administrator and is particularly interested in the effect music has on physical & psychological wellbeing.
Read more
Lauren is a mezzo-soprano, and sings regularly with the London Youth Chamber Choir, National Youth Choirs and other ensembles, performing in iconic venues and at high-profile events nationally and internationally. Past performance highlights include First Night of the Proms, Centenary Memorial Service at Amiens Cathedral, Patrick Hawes "Great War Symphony" at the Royal Albert Hall, recording at Abbey Road Studios and performing at Ronnie Scott's. 
Lauren also deps as a freelance singer and assists with choral workshops across the UK. She is passionate about music education, and is VERY excited to be a member of the LYC staff team!
DAN MORIYAMA
Accompanist
Dan is a pianist and keyboard player performing across musical genres, from soul/rock organ at European blues festivals to classical piano at the Royal Albert Hall. An accomplished classical pianist, he specialises in accompanying instrumentalists, singers, and choirs.
Read more
He plays Hammond organ with Tennessee blues singer, Earl Thomas; keyboards with pop artists including the late Donna Summer and members of Madness; plays and sings with 'New Orleans funk/soul' band, The Coalminers. He works in TV, theatre, and with dancers; is Musical Director for educational charity, Arts Insight; teaches piano and songwriting; plays bass guitar; writes, and produces. Dan studied music at Wells Cathedral School, was a BBC Young Musician piano finalist at 15, and studied jazz and classical piano at the Guildhall School of Music.
LAUREL NEIGHBOUR
Assistant Leader (LYC Cambiata Girls)
(she/her)
Laurel is a Musical Director and singer, and was a member of the London Youth Choir and Chamber Choir in its very first year! She currently leads the London Humanist Choir, King's College London Staff Choir and Islington Council Singers, and works as an Assistant Leader with London Youth Choirs and St John of Jerusalem Festival Chorus, and as a private singing teacher.
Read more
Laurel has sung professionally in London for many years, with groups such as Gareth Malone's Voices, St Martin's Voices, National Portrait Gallery Choir, Apollo5, and London Contemporary Orchestra. In 2012 she sang for The Rolling Stones with LYC at the 02!
Laurel is also passionate about getting younger voices singing and currently works as an education workshop leader with Voices Foundation and Voces8 Foundation. In her spare time, she can be seen pedalling on her purple Peugeot racing bike, Polly, around south London.
JESS NYANTAKYI
Assistant Leader (LYC South East)
Jessica is a passionate youth educator, with a drive to bring out the oftentimes hidden confidence in young people. She uses laughter and fun to encourage them to embrace their unique abilities and talents. One of her primary tools in this process, is her other deep passion - music.
Read more
When not joyfully immersed at LYC, Jess is a library development officer, where she loves to engage with local communities and schools in the borough she services. Here she once again brings this passion for music forward, combining it with the magic of spoken and written words, to deliver fun filled events both in person, and in this new era, via zoom.
You will often find Jess, even with a book in hand, singing a song. Better still, you will find her dancing while singing with the under-fives, or teaching both parents and children calypso and pop tunes. As a regular member of Southwark's 'library band', Jessica will insist that librarians are in fact very cool, and not stodgy at all!
ANTONIO OLIVEIRA
Assistant Leader (LYC Junior Boys & LYC Cambiata Boys)
Antonio is delighted to be part of the London Youth Choirs staff team, after being an avid choir member some years ago.
Read More
Since leaving the choir in 2015, Antonio has gone on to study Music at the University of Hull, and is now working with schools and other music projects as part of the Ark Youth Music Programme. Antonio hopes to inspire the next generation of choral singers and is thankful for LYC for giving him the opportunity to do so.
MARIANA ROSAS
Conductor, LYC Junior Girls
(she/her)
Mariana is an Argentinian conductor based in the UK. She is currently Music Director of the Colla Voce Chamber Choir and Birmingham City Council Choir, and Deputy Conductor of Crouch End Festival Chorus. She also works regularly with Birmingham Opera Company, West Midlands Inclusive Choir, and the Royal Opera House in London. In September 2021, she obtained the 2nd Prize at the Dima International Conducting Competition in Romania.
Read more
Mariana was educated in Italy and Argentina, and in 2018 transferred to the UK to study at the University of Birmingham with Simon Halsey. Prior to her move, she was Assistant Professor of Choral Practice at the National University of Arts in Buenos Aires and worked as a guest conductor in Denmark, Canada, Italy, and Switzerland.
She now works on a diverse range of projects across many musical disciplines and is regularly engaged as a guest conductor – with musicians of all ages and abilities – on projects across the UK.
MERLIE ANNE SEBASTIAN
Assistant Leader, LYC South West
Merlie Anne was part of the LYC Junior Girls' Choir over five years ago and is excited to return as an Assistant Leader for LYC South West. She graduated from The BRIT School for Performing Arts and Technology with a diploma in Music Performance and Production in 2020. She is currently a freelance vocalist and digital artist based in Sutton, as well as a member of the London International Gospel Choir.
OLIVIA SHOTTON
Conductor, LYC West
(she/her)
Olivia is a freelance conductor and singer based in London. She is currently studying Choral Conducting under Patrick Russill at the Royal Academy of Music where she has conducted masterclasses with the BBC Singers, Paul Brough, David Hill and Simon Halsey, and been shortlisted for the DIMA International Choral Conducting Competition.
READ MORE
Olivia completed her undergraduate degree in Music at the University of Sheffield where she also won the 'Jessop Voices' conducting award. She is a Conducting Scholar with Milton Keynes Chorale, Musical Director of Horsham Chamber Choir and Assistant Musical Director of The Hythe Singers, and is a former Sing For Pleasure Young Conducting Scholarship holder.
RACHEL STAUNTON
Artistic Director
Rachel Staunton co-founded LYC in 2012 with Suzi Digby. Having gained a first-class honours degree in music at Royal Holloway, University of London, Rachel continued her studies at the Royal Academy of Music, graduating with numerous awards and an LRAM in Choral Conducting.
Read more
She held the post of Vocal Director for In Harmony Opera North (Classic FM's Music Education Project of the Year 2014) and spent several years establishing the Opera North Children's Chorus. Rachel has also worked as a conductor with the National Youth Choirs of Great Britain for over a decade.
In 2014, Rachel was made Associate of the Royal Academy of Music, in recognition of her contribution to choral music and work with young people. She is passionate about using choral music to inspire young people from all backgrounds and dedicates her career to this mission.
MEG STORER
Assistant Leader (LYC Junior Girls)
Meg is a freelance flautist and conductor, having just completed her master's studying at Trinity Laban Conservatoire of Music and Dance. She dedicates her career to education, from private music tuition and workshop leading, to running and conducting an orchestra committed to educating children and young adults on film music. She is very grateful to have joined the team at LYC.
Read More
Meg loves to show her personality in her music, and can often be found performing barefoot, or tap dancing whilst playing the flute! Her bright coloured hair and make-up make her easy to spot in a crowd, and if not, you'll find her falling in love with each and every dog she comes across!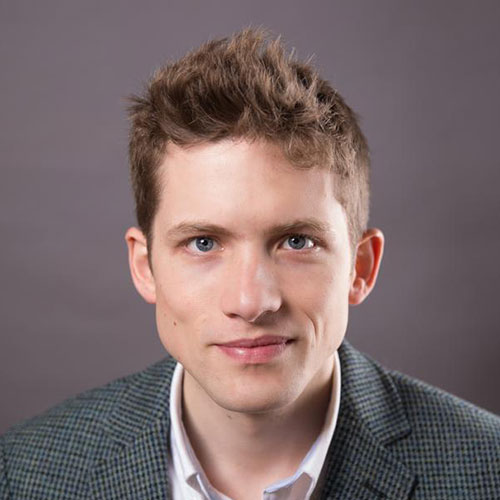 BEN VONBERG-CLARK
Conductor, LYC Junior Boys
Ben has been teaching primary aged children since his year abroad in a children's theatre in Vienna in 2008. He set up the three children's choirs of St. John the Divine, Kennington, in 2013, where 80 children aged 5-18 now attend weekly rehearsals and perform in concerts around the country; they have also broadcast live on BBC Radio 2 and have a partnership with St. John's College, Cambridge.
Read more
Ben is increasingly in demand to lead one-off singing days and courses, working for the Red House, Aldeburgh, the Roman River Music Festival, the National Youth Choir of Great Britain, the Rodolfus Foundation and YK Pao School, Shanghai. He also conducts two choral societies in South London and is the conductor elect of the University of Essex Choir from October 2020. He ran the Singing Outreach Programme for Westminster Cathedral, working with 12 primary schools over London, from 2014-19.
Ben studied music and German at Durham University, University of Vienna, King's College London and as a postgraduate in vocal studies at Trinity Laban Conservatoire of Music and Dance. Alongside his conducting, he is seen regularly on the oratorio and recital circuit and has sung with the BBC Singers, the Sixteen, Stile Antico, Tenebrae and the Eric Whitacre Singers among others. In 2019 he performed a solo recital as part of the Aldeburgh festival.
STELLA WERTH
Assistant Leader (LYC West)
Stella is a member of LYC Chamber Choir and is looking forward to joining the LYC staff team as an assistant leader for LYC West.
Read More
 She graduated with a degree in Music from Royal Holloway University where she sang with the Royal Holloway Founders Choir and helped to run the Holloway Notes Choir for adults with learning disabilities. Since graduating in 2020, Stella has worked as an administrator for The Military Wives Choirs, London Youth Choirs and The Include Choir. 
TristAN Weymes
Assistant Leader, LYC Cambiata Boys
Tristan is a Choral Conducting student at the Royal Academy of Music, and a recent graduate of Oxford University. He runs several choirs, including the Elysium Consort, and is determined to provide opportunities to musicians of all backgrounds. He recently set up a Children's Choir at St Luke's, Woodside, where he is Director of Music, and has led singing workshops in the UK and abroad for children and adults alike.
UNLOCKING YOUNG PEOPLE'S POTENTIAL THROUGH THE POWER OF CHORAL SINGING