Our eighth choir is up and singing!
STARTING A NEW LYC CHOIR IN THE MIDDLE OF LOCKDOWN DIDN'T SOUND LIKE THE BEST OF IDEAS – BUT LYC WEST BEAT ALL EXPECTATIONS.
Plans for a second regional LYC choir had been in place long before we'd ever heard of coronavirus. As lockdown followed lockdown, and we got the knack of online choir, it dawned on us that the physical restrictions weren't actually a show-stopper, and that the planned launch of LYC West should go ahead!
And so at the start of 2021, in the depths of lockdown, we announced a free online taster workshop for children in school years 3-6 living in Ealing and surrounding West London. We received invaluable support from our partners Ealing Music Service in spreading the word to schools and parents, and from many local organisations and choral societies. Within days, the workshop was fully booked and we had to add a second! More than 150 children eventually signed up. 
The workshops were hugely successful and even made the local news. Following auditions, we were delighted to welcome 43 talented young singers to the brand-new LYC West, and to post them their LYC T-Shirts shortly afterwards (check the picture!).
Over the following weeks, led by Olivia Shotton and pianist Harry Baker, the fledgling ensemble made rapid progress in its weekly Thursday rehearsals, and was able to participate alongside the other seven LYC choirs in our 2021 Spring Concert, VOYAGE, performing in 'Hope for a better tomorrow' and in the world premiere of 'The Mayflower Anthem', written especially for LYC by composer Shruthi Rajasekar.
The launch of LYC West has been welcomed by all involved, including Ealing Music Service whose Head Yogesh Dattani said:
"I'm delighted that LYC West has launched in Ealing. Initially, it was quite bleak when we went into lockdown, but after having interviewed 24 heads of music service in Ealing to find out how they're providing music online, not one of them said to me that they're not providing it in some shape or form which is great. Obviously there is no replacement for the real-life lesson but we want to use this facility with Zoom to reach kids that we perhaps previously weren't able to."
The online format may even have helped children who might ordinarly have felt intimidated by a physical event. In some cases, LYC was made aware of children whose special needs would have certainly prevented them from participation at a 'normal' live workshop, and whose parents gratefully recognised the uniquely connective nature of virtual activities.
As we start to see the signs of return to normality, we're especially thrilled at the prospect of bringing LYC West together face-to-face. Whatever the future may hold, their special place in LYC history is secured!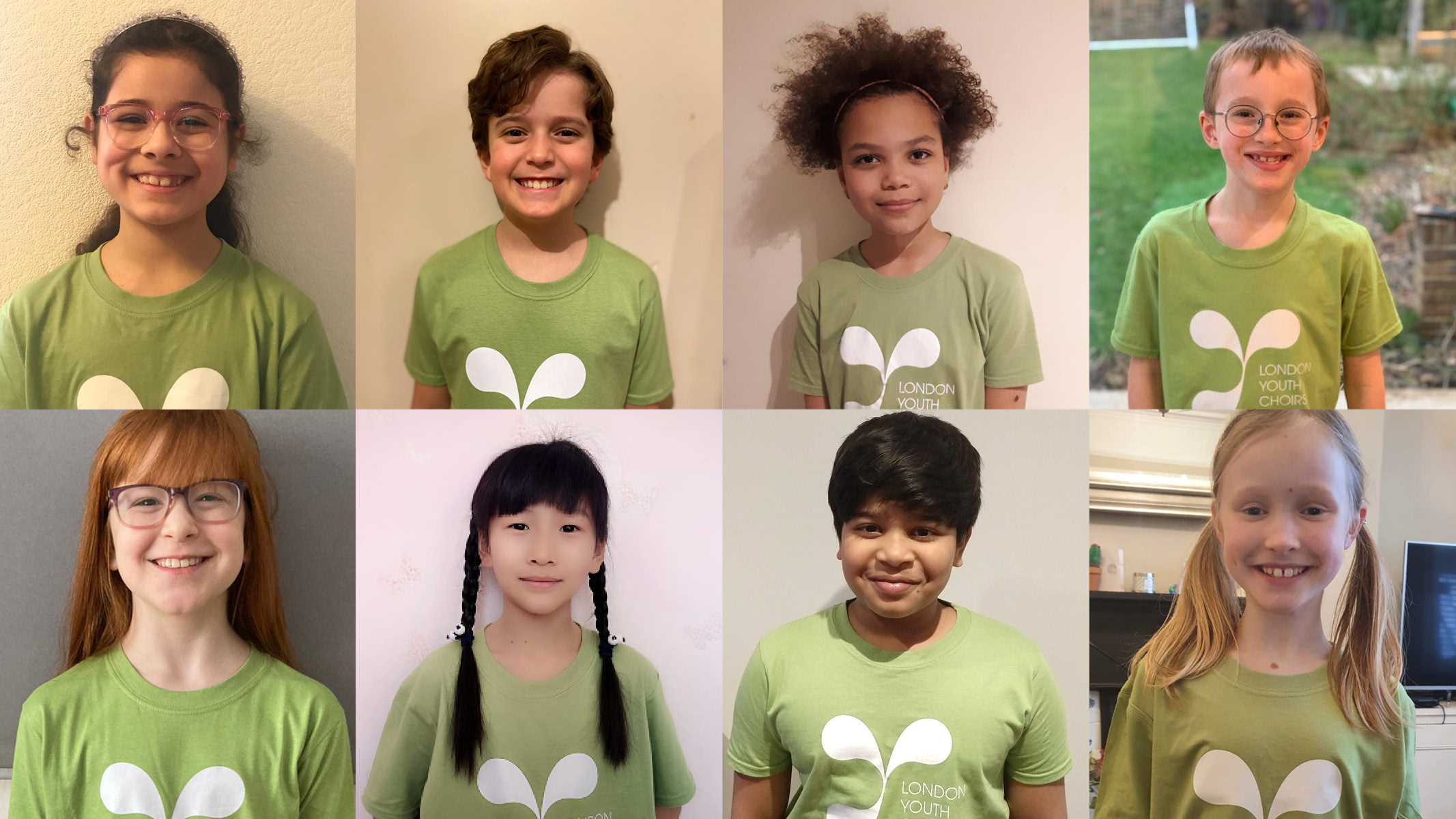 Some of the 43 new LYC West members posing in their new t-shirts!
LYC WEST
LYC West is our second regional choir. It's for children in school years 3 – 6 who live in Ealing and surrounding West London. Click to find out more!
UNLOCKING YOUNG PEOPLE'S POTENTIAL THROUGH THE POWER OF CHORAL SINGING