LYC Junior Boys is our early stages choir for boys from across London in school years 3 – 6, based in Central London. The choir gives boys a solid foundation in voice production and musicianship, tackling fun and energetic repertoire. 
LYC Junior Boys is for boys in school years 3-6 who live anywhere in London.
You don't need to have any previous experience of singing, or of singing in choirs or groups. And if you do sing already, it doesn't matter what style you sing in, or what music you like to sing: there's no 'right' or 'wrong' singer for a choir, and we sing all sorts of music!
To join LYC Junior Boys you first need to audition. That might sound scary, but we make a big effort to ensure that the experience is friendly and supportive. We won't make bad comments or try to catch you out, we want to see and hear you at your best! We also think it's important to hear you as part of a group, rather than on your own, so your audition will take the form of a workshop with others.
To find out all about auditioning, visit the Join LYC page.
As a member of LYC Junior Boys you will meet every Monday during term-time for rehearsal.
Rehearsals are always from 4.45-5.45pm and are held in central London near St Paul's. At rehearsals you'll learn and practice songs and skills, developing abilities and confidence as you go. We frequently invite guest leaders to introduce special music and activities.
You will also get to take part in social activities and make new friends, and new best friends (trust us!)
Other LYC Junior Boys membership benefits include your LYC t-shirt, all your music for the term, and access to our secure online members zone, MyLYC.
Finance should not be a barrier to participation in LYC. 
We offer financial assistance to help with membership fees. You can find out more and apply via our secure online members zone, MyLYC, which we'll give you access to when you join.
The annual membership fee for all LYC choirs is £300. This can be paid as a single sum or by monthly direct debit (eight payments of £37.50). All the information about how to pay is in our secure online members zone, MyLYC.
There is so much to get out of being a member of LYC Junior Boys: vocal and musical skills and training, experience of concerts, recordings and music videos, social activities and amazing friendships – but don't take it from us! Watch this video to hear from LYC members.
ASK AWAY!
If you've got any questions about LYC Junior Boys, we've almost certainly got the answers! Drop us an email (Mon-Fri 9.30am-5.30pm) and we'll be happy to help.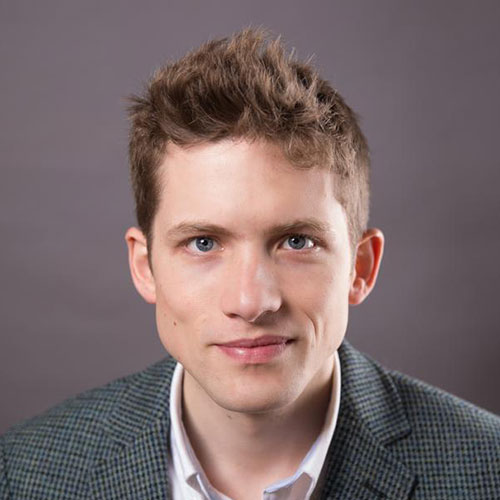 BEN VONBERG-CLARK
Conductor (LYC Junior Boys)
Ben has been teaching primary aged children since his year abroad in a children's theatre in Vienna in 2008. He set up the three children's choirs of St. John the Divine, Kennington, in 2013, where 80 children aged 5-18 now attend weekly rehearsals and perform in concerts around the country; they have also broadcast live on BBC Radio 2 and have a partnership with St. John's College, Cambridge.
Read more
Ben is increasingly in demand to lead one-off singing days and courses, working for the Red House, Aldeburgh, the Roman River Music Festival, the National Youth Choir of Great Britain, the Rodolfus Foundation and YK Pao School, Shanghai. He also conducts four office choirs in London and is the conductor of the University of Essex Choir and founder and director of the Wivenhoe Youth Choir. He ran the Singing Outreach Programme for Westminster Cathedral, working with 12 primary schools over London, from 2014-19. His book "Introducing Singing" was published by Trinity College London in March 2023. 
Ben studied music and German at Durham University, University of Vienna, King's College London and as a postgraduate in vocal studies at Trinity Laban Conservatoire of Music and Dance. Alongside his conducting, he is seen regularly on the oratorio and recital circuit and has sung with the BBC Singers, the Sixteen, Stile Antico, Tenebrae and the Eric Whitacre Singers among others. In 2019 he performed a solo recital as part of the Aldeburgh festival.
OUR PARTNER – CITY OF LONDON SCHOOL
LYC Junior Boys is made possible through the generous in-kind support of City of London School. 
UNLOCKING YOUNG PEOPLE'S POTENTIAL THROUGH THE POWER OF CHORAL SINGING